Marci Pearl |
Bisexual | 16 | Female | Taken by Zenaturapone |
United States
Hai! My name's MelodiousMarci, but you can just call me Marci X3
I'm a 16 year-old artist, beginning animator, and osu! intermediate mouse player.
If you're someone I've blocked or has had a bad past with, then you're not welcome here AT ALL and I want nothing to do with you, just leave before you even think about doing anything. I know this may seem harsh but I want to avoid further drama from some people.
Pet me if you want X3
please.pet/melodiousmarci

Icon made by Me
Steam profile picture made by
CottonPonySFM
/
Tiz4905
osu! avatar made by me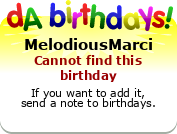 What Element Of Harmony Are You?
Hosted By theOtaku.com:
Anime
Who Are You In The Mane 6?
Hosted By theOtaku.com:
Anime
What Kind Of Pony Are You?
Hosted By theOtaku.com:
Anime